About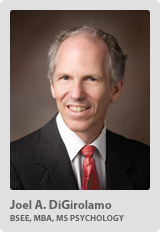 Joel DiGirolamo has over 30 years of staff and management experience in Fortune 500 companies. He has a BSEE, MBA, and an MS psychology degree and is the author of the award-winning books Leading Team Alpha and Yoga in No Time at All. The combination of his diverse work experience and education enable him to relate to individuals at all levels and positions of any organization in any region of the world. His broad experience has allowed him to successfully lead and participate on teams of individuals with unique backgrounds and various motivations. Joel has been a keynote speaker at several international conferences, is a member of the American Psychological Association (APA), the Society for Industrial and Organizational Psychology (SIOP), and Society for Human Resource Management (SHRM). You can contact Joel at joel@jdigirolamo.com or +1-859-539-6882.
Testimonials
"Joel draws a crowd!" — C. A.
"Just wanted to thank you for all you did! It was great! You gave me some great tools to do my job better and more effectively!!" — C. G.
"Joel provided invaluable business expertise and guidance as I went through the dissolution and liquidation of my business. His wisdom, foresight, and extensive network of business contacts made the process as painless and profitable as possible. Joel has the ability to mediate and promote communications which continually allowed us to reach a deep understanding with all parties during negotiations. I am very grateful for his assistance." — R. B.
"Turbocharged Leadership is a catalyst for outcomes!  Joel DiGirolamo's depth of understanding on issues surrounding leadership can help individuals and organizations move forward to accomplish goals." — A. C.
"I was involved in a harassment situation at my job. With Joel's professional and insightful coaching, I was able to resolve the conflict to everyone's satisfaction." — J. D.
"DiGirolamo delivers a dynamic presentation weaving corporate experience and leadership fundamentals into strategic tips that can be taken back to the office and used today!" — K. W.
"Joel provided an engaging, reflective session which was very useful to our members!"
Newsletters
Press Releases
Turbocharged Leadership Adds Three State-of-the-Art Tools, August 2, 2013 (137KB)
BP Oil Spill Report Demonstrates Need for Leadership According to Turbocharged Leadership, January 13, 2011 (83KB)
One Sheet
PDF One Sheet (200KB)
UNSPSC Codes
86101801 Bank or finance sector manpower development
86101804 Commercial sector manpower development
86101805 Industrial sector manpower development
86101806 Health sector manpower development
86101807 Management sector manpower development
86101808 Public sector manpower development services
86101810 Personnel skills training