Books
Leading Team Alpha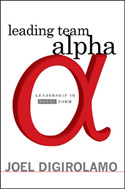 Leading Team Alpha is a novel about a software business, Dandadata, that suddenly finds itself trailing its major competitor when they announce a new version of their product. Dean, a manager at Dandadata, has been working on NU technology with a small team of four people and must build his team and incorporate NU technology into the DandaData mainstream product to save the company.
Navigating treacherous market forces and political headwinds, Dean incorporates research-based leadership elements as he learns them from Dr. Solomon (Sol) König, a local university professor.
A quick, entertaining story illustrating the fundamentals of leadership based on scientific research
Demonstrations of how to have effective, difficult conversations with team members
An excellent book for leadership programs and new manager training
The academic community has studied leadership for over half a century-yet little has leaked out to the business community. Leading Team Alpha is a unique book, presenting the scientifically determined fundamentals of leadership in a novel.
Purchase from Amazon.com
Learn more at leadingteamalpha.nu
Hardcover: ISBN 978-0-9770884-3-0 $24.95
Kindle: ISBN 978-0-9770884-2-3 (1Q, 2011)
ePub for iPad, Nook & Sony Readers: ISBN 978-0-9770884-1-6 (1Q, 2011)
Yoga in No Time at All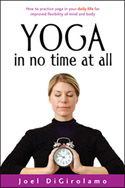 Yoga is one of the few activities that promotes vitality for all our physical elements: strength, flexibility, and balance. In addition, yoga can encourage a sense of stillness and quiet.
Yet, we commonly hear several reasons for not practicing yoga or exercising:
No time
No money
No energy
The techniques in Yoga in No Time at All cost nothing, take little or no time out of your busy day, and take very little energy. This is the ideal book for anyone wishing to have more time in his or her life for yoga and fitness in general.
A great book for corporate wellness programs.
Purchase from Amazon.com
Learn more at yogainnotimeatall.com
Softcover: ISBN 978-0-9770884-6-1 $14.95
Kindle: ISBN 978-0-9770884-5-4 $9.99
ePub for iPad, Nook & Sony Readers: ISBN 978-0-9770884-4-7 (1Q, 2011)